FormXP - Form Maker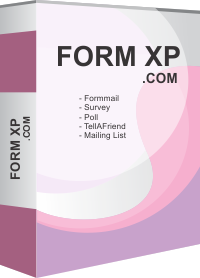 If you're looking for one of the best, most powerful scripts ever developed for creating mail forms, you've found it in FormXP 2007. FormXP 2007 boasts a user-friendly interface that quickly gets the detailed job done without hassle and frustration. Custom forms for the most demanding web site are no problem with FormXP 2007 because it enables you to create complex forms--forms with an unlimited number of fields; and send auto respond messages in Text or HTML format.
Because FormXP 2007 uses a web-based program, with a simple click of the "preview" button, you can view your work, via the internet, within minutes of creating it. Viewing your work before sending it has some notable advantages, and FormXP 2007 is the only script that allows the sender to view their final e-mail information before sending it.
The version 2007-0412 comes with Form Builder + Survey Builder + Poll Builder + Tell-A-Friend and Advance Mailing List Builder (5 in 1 package). Another best thing about FormXP 2007 is it will tell you where your visitors come from (Country, City, Region) base on their IP address.
Note: This product includes GeoLite data created by MaxMind, available from http://www.maxmind.com
FormXP Features:
5 in 1 package: Form Builder + Survey Builder + Poll Builder + Tell-A-Friend + Mailing List Builder
Support multiple pages (new). When user click Next button, formXP will show next page right away (user don't have to wait for page reloading).
User friendly interface
Admin area will allow you to build any complex form mail / survey / poll on the fly.
Preview information displayed, before sending
Handles unlimited forms and unlimited number of fields including attach file
Webmaster can create and send e-mail reply in Text or HTML format
Easily installed; no PHP skill is required
All guest e-mail address will be saved to database (No duplicates will be saved).
Advanced Features:
Auto detect where users come from base on their IP address. Admin will see user's Country, City, Region, Longitude, Latitude, Area code.
FormXP has ability to calculate distance (mile/km) between user's location and admin's location.
Easy for webmaster enable Security Image Code (when user submit form, they will force to enter the character shown on image to prevent spam - automate submit)
Ajax enabled will allow you update data on the fly, no more waiting to reload page.
We use Ajax technology to send mass email. That means FormXP 2007 Mailing list feature can send message to unlimited email without worry about script time out.
Advance checking field error (field can't be left blank, invalid email, number only).
The look of each form can be modified via HTML template (CSS is enabled).
About Special Features IP TO LOCATION:
FormXP 2007 includes GeoLite data created by MaxMind. With this data FormXP will allow admin to know where user come from.
GeoLite data file will be updated monthly, at the beginning of each month, by MaxMind.
When you want to update GeoLite data file, download GeoLiteCity.dat file here
http://www.maxmind.com/download/geoip/database/GeoLiteCity.dat.gz (unpack the .gz file you will see GeoLiteCity.dat file, use FTP to upload GeoLiteCity.dat to formxp folder)
Ajax Poll Demo (Visit Admin Demo link above to create your poll)
Photo Poll Demo (Use HTML to display image)